A Team and Company Committed to the Association Industry
Credentials, Honors, and Service
SAM's talented team of award-winning, experienced association professionals and Executive Directors is among the very best in the nation, boasting ANSI/AMC Institute accreditation, Certified Association Executives, Certified Nonprofit Accounting Professionals, Certified Meeting Planners, and Certified Fundraising Executives poised to help you reach your goals.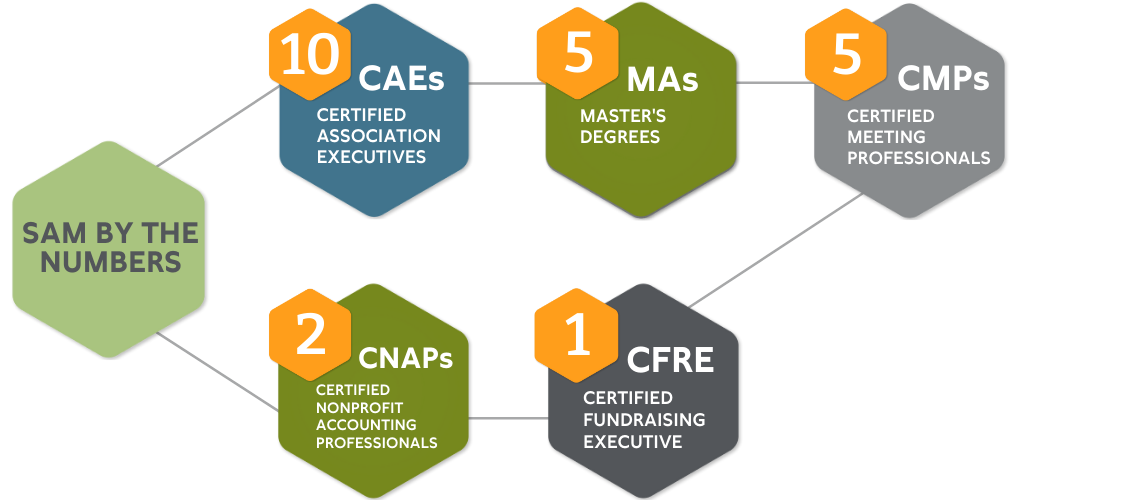 AMCI Accreditation
SAM is committed to strong processes to deliver high-level strategic, operational, and administrative services to associations. We're proud to say our company, SAM, is one of only two AMCs headquartered in the state of Texas to achieve accreditation from the Association Management Company Institute, the highest standard for our industry. The AMC Institute is an international organization with a rigorous accreditation process codified by the American National Standards Institute (ANSI). This accreditation means that SAM's systems and processes adhere to ANSI's requirements and exhibit the highest levels of quality.
In order to achieve accreditation, SAM has demonstrated to an independent auditor the ways in which we follow a defined set of best practices around nonprofit management, including financial practices, meeting and event management governance, and the development and maintenance of organizational policies and procedures.
SAM is among an elite group of Association Management Companies who have worked toward and received the ANSI/AMC Institute Standard of Good Practices for the Association Management Industry accreditation credential. AMCs who have adopted the Standard have made a commitment to uphold and deliver the highest level of customer service using a documented set of best practices.